WARRIOR SERVANT MARTIAL ARTS
WHERE THE MARTIAL ARTIST AND THE MARTIAL ARTS MEET!
Welcome to the
Warrior Servant Martial Arts
Dojo

​​


​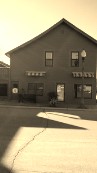 Please take a look around our site. If you have any questions feel free to call Chief Instructor James Tenney or shoot him an email.

We are a School dedicated in developing Mind, Body, and Spirit. We teach solid self-defense in a positive environment.​​